Update your MET/TRACK Database from Anywhere
In today's challenging IT environment, providing applications that run quickly, securely, and use the least amount of bandwidth are very important considerations.  On Time Support has designed the METDaemon web based applications to provide this type of performance in Metrology Xplorer 2 (METEX2).  Metrology Xplorer 2 utilizes current industry standards for web applications and has the ability to support multliple client Operating Systems, such as Linux and some Android Portable devices.  As with all of the METDaemon application products, installation is simple, there is no web server to install, and no ODBC to figure out. 

METEX2 utilizes the Fluke MET/TRACK look and feel that MET/TRACK users are already familiar with.  METEX2 is easy to navigate and appears like a typical dedicated client installation instead of a web browser application. In fact, some users have commented that they forgot they were using a browser.
Typical functions supported in METEX2:
Security Support is the same as MET/TRACK.
Adding, Viewing, and Editing records.
Support for both Simple and Linked validation.
Merge table support (adding, editing, deleting).
Crystal Reports supported (Crystal Reports are very fast in METEX2) (Requires a Crystal Reports license from OTS).
User Tables Support (adding, editing, deleting)  (requires METDaemon 1.0.265 or higher for this feature).
Desktop Support.
Change/Log keeps a record of database changes (requires METDaemon 1.0.265 or higher for this feature).
There are additional functions in METEX2 which are not available in MET/TRACK:
Document Linking from any text field.
SQL reports capability
There is a Reports grouping capability that can allow only certain users to see SQL or Crystal Reports.  This provides extra security.
METEX2 provides Page Minder tool that keeps track of assets that are updated during a logged on session.
You can more easily edit merge tables and linked validation tables in METEX2.
Some portable Android based devices are supported.
Click the image below to display the screen without the descriptions.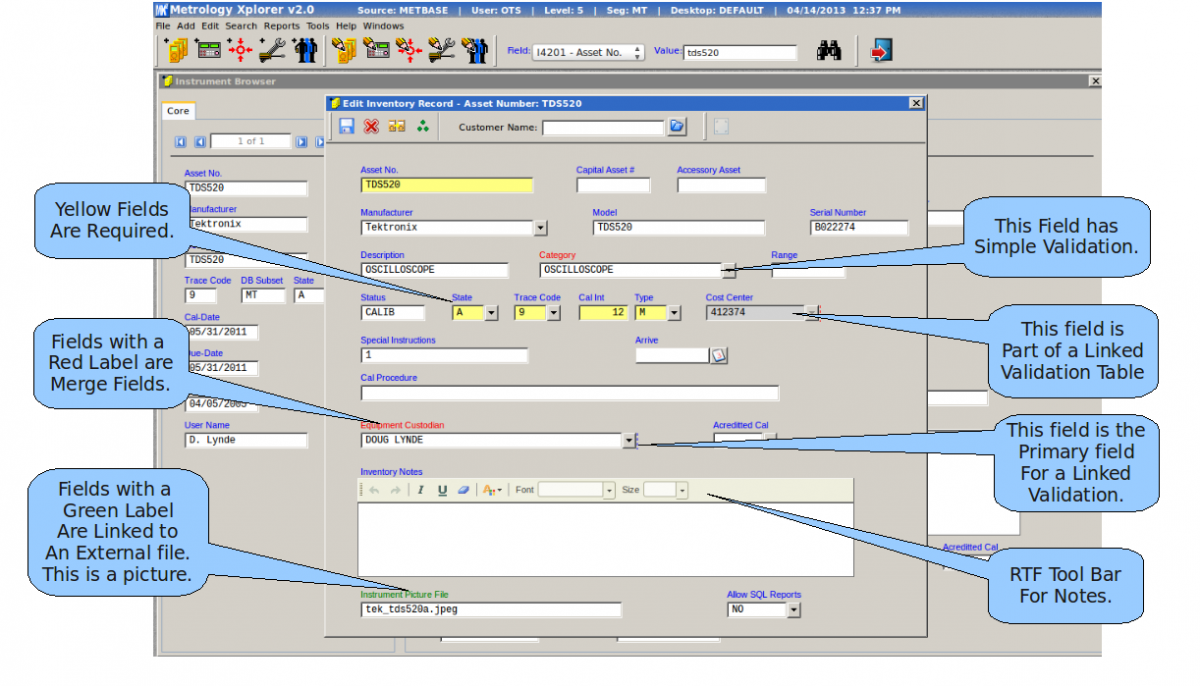 METEX2 also runs Crystal Reports very easily.  Below is an example of a basic certificate with data that you can run from the Calibration Screen in METEX2. Crystal Reports are very easy to create for METEX2, especially if you have some Crystal Reports experience.  You can also convert your existing Crystal Reports without having to re-write them for METEX2.  On Time Support can also provide a service to convert your existing Crystal Reports to METEX2 to get you up and running fast.
Clicking the Export button in the Crystal Report will create a PDF for printing.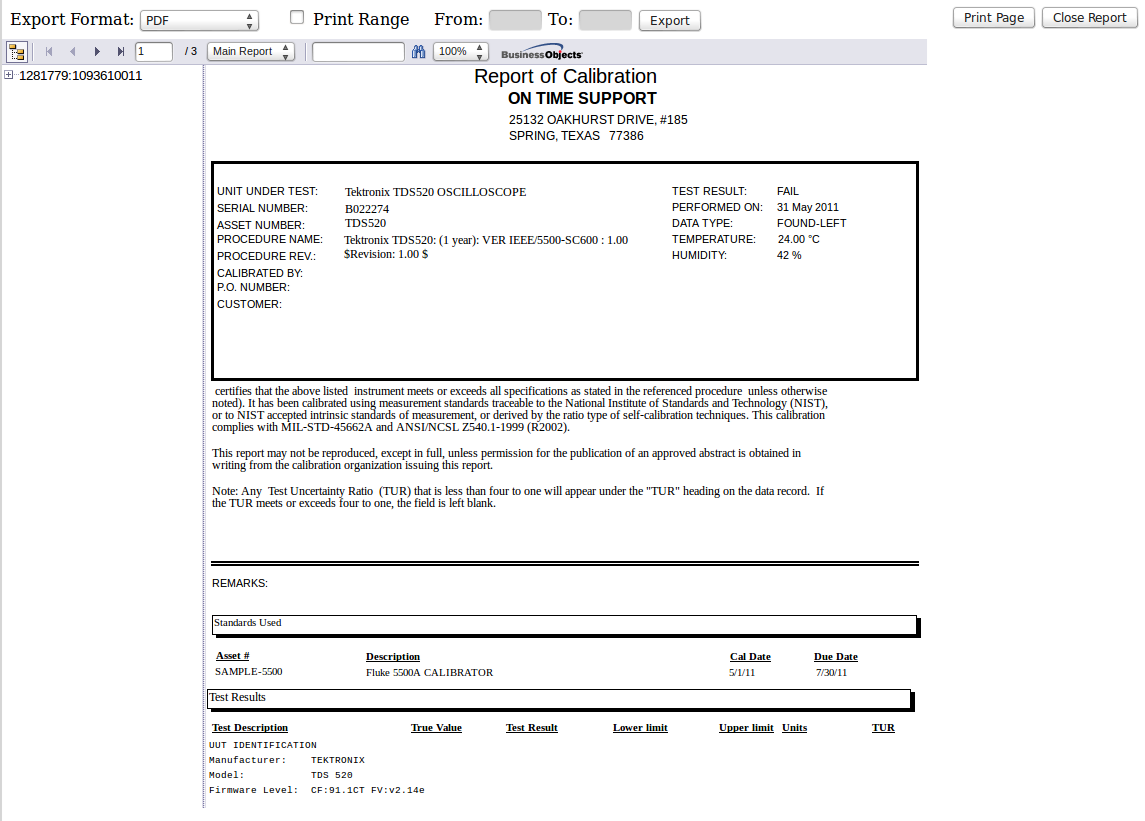 METEX2 also works with the other OTS products such as Barcode Magician.  You can embed Barcodes into your SQL and Crystal Reports using the METDaemon Barcode Generator product.  Demos are aviable and you can also run a demo form the OTS web site.