Our newer products, here from On Time Support, use our exceptional METDaemon technology.  We delivered the first METDaemon back in 2005 and have continually developed and improved the technology to the extent that customers rely on our METDaemon to run mission critical processes across the world.  We have been delivering web applications since 1999 and our experience and customer feedback led us to predict that feature rich web applications would become the norm and would require a new technology resulting in METDaemon.   The METDaemon application server continues to prove itself year on year, from simplifying the application installation process, to providing high performance applications that will run on all traditional PC browsers and portable Android devices.
Our customer's needs continue to drive our product development and we are developing new METDaemon applications.  Do you need a special application?  Let us know.  We are the experts when it comes to working with different databases and we support different operating systems from Windows to Linux.  We will be providing a future METDaemon interface kit for fast application development.  Please contact us for more information.
METDaemon is: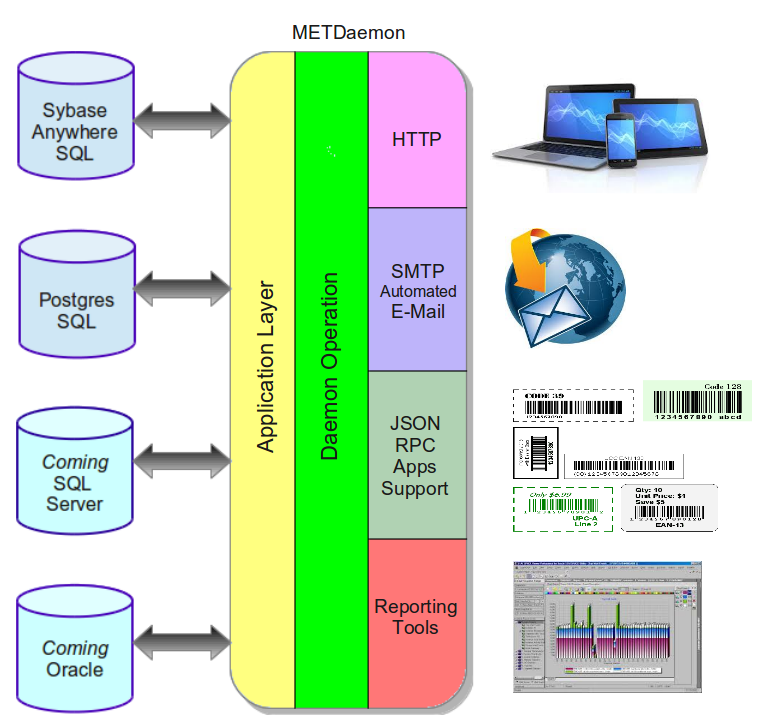 A multi-platform application server that provides data access from a wide assortment of devices through a variety of web-based applications.
A scalable, movable server-based software package that is easy to deploy, easy to maintain, easy to customize, and has the power to support hundreds of users across LAN/WAN/VPN.
There is no dedicated installation program (simple zip file). METDaemon is self contained and does not utilize much of the Windows shared resources. On servers running Microsoft Windows, the registry is not heavily modified like other installation programs. Windows services install very easily with METDaemon. Windows Updates will have very little affect on METDaemon operation.
Supports Linux and Windows Operating Systems.
Features include:
Built-In web server. No need to struggle configuring IIS.
Remote, web-based management for simple administration from practically any location.
 Multiple datasource configuration. Connect to any number of Databases1.
Email Notification. Send customizable HTML formatted email at specific intervals, providing up-to-date data to those in your organization whoneed it most. SQL reports can provide a wealth of information to anyoneinvolved in data-mining, work flow, enabling simple to complex reporting.
Email recipients can be configured in the web-based administation program(static), OR, email addresses can be pulled from the database(dynamic). Email addresses can be associated with instruments to provide only relavent data to each recipient.
Delivery and/or Read Receipts are available to help verify delivery of important email.
Crystal Reports. METDaemon provides services which allow Crystal Reports to be accessed from any number of web applications. It is very easy to convert existing Crystal Reports to run on METDaemon.
METDaemon supports report grouping that can be used by applications to determine who can see configured SQL and Crystal reports.
Current METDaemon web-based applications:

*Included
METDaemon Admin Remote management program. Includes Email Notification.

*Optional
Metrology Xplorer 2. This application is very similar to Fluke MET/TRACK, and it is web-based and does not require any client side installation. Performance is very good, even over wide area networks (WANs and VPNs).

*Optional
BC Mobile. A web-based version OTS's very popular Barcode Magician.  (note: a complete list of features are available on the On Time Support website.)

*Optional
Report Viewer. A simple way to run and display SQL and Crystal Reports configured in METDaemon. Includes support for prompts. Automatically refreshes SQL report data with the built-in timer.

*Optional
METDaemon Responder. This is a highly configurable application that may be used in a variety of ways to gather input from users by creating customized web forms collecting information. This information can be stored in the database and can be used for analysis at a later time.

*Optional
Barcodes. METDaemon can generate barcodes in a number of formats that can be included in any SQL Report, or even in Crystal Reports. Barcodes can be utilized by any application with the ability to access network(http) resources.
More applications are coming.  Sign up on the metlist and we will keep you up to date.
1Sybase and PostgreSQL Databases supported at this time. Additional database support is coming soon.